Glan Clwyd death inquest: Defibrillator 'mistake'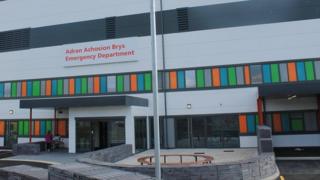 A hospital defibrillator used on a Denbighshire man before his death was set to the wrong power level, an inquest has heard.
John Rogers, 78, of Denbigh, died on a coronary care ward at Glan Clwyd Hospital, Bodelwyddan, in March 2015.
On Tuesday, the nurse in charge of the machine told the hearing in Ruthin she felt "terribly sorry that it happened".
Mr Rogers' death led to a serious case review by Betsi Cadwaladr University Health Board, which runs the hospital.
Vanessa Humphreys, who was in charge of the defibrillator which is used to revive heart attack patients, told the inquest: "I was trying to defibrillate the patient and it was discovered later that I hadn't got the right voltage on the defibrillator.
"I just wish it hadn't happened and I hadn't made the mistake."
Another nurse eventually spotted the error, and changed the voltage settings but attempts to resuscitate Mr Rogers failed.
Giving evidence on the first day of the hearing, Mr Rogers's daughter, Melissa, described how she and her mother had been called into the hospital after his death to meet a heart consultant.
He told the family it had come to light the defibrillator was set to a power level of two joules when it should have been 150 joules.
"My family and I are utterly devastated at losing dad," Ms Rogers said.
"I thought dad was in safe hands. But that night it all went wrong."
A post-mortem examination confirmed Mr Rogers suffered a heart attack, leading to his collapse on the ward on the night he died.
The inquest heard concerns about Mr Rogers's death were flagged up to the cardiac consultant looking after him, Christopher Bellamy.
Asked why it was over a day before the matter was brought to his attention, Mr Bellamy replied: "I don't know."
Suspended
The inquest heard that Mr Rogers had been admitted to hospital on 25 March after an earlier heart attack.
Three days later he collapsed by his bed and an emergency cardiac team was summoned, while nurses - including Mrs Humphreys - began resuscitation attempts.
The hearing was told that the defibrillator could be used in an automatic mode, where users are guided through its operation, or in a manual "expert" mode.
She told the coroner that she thought it was her "first time" using the equipment in manual mode.
Mrs Humphreys' qualifications to use the equipment had lapsed a month earlier, the inquest heard.
It was another day before Mrs Humphreys admitted her mistake.
The matter was referred to the coroner, she was suspended from work, and the serious case review was launched.
"I was just trying to save his life - that's all I was trying to do," she told the coroner, John Gittins.
"And you got it wrong?" replied the coroner.
"Yes," said the nurse.
The hearing continues. It is expected to last four days.