£5m secured for new arts centre in Wrexham market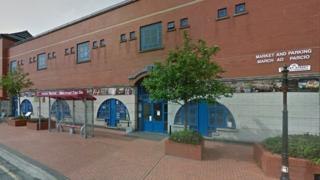 About £5m will be spent on creating an arts centre at an indoor market in Wrexham town centre.
The Arts Council of Wales has agreed a £2.3m grant meaning the Arts Hub at People's Market can go ahead.
Wrexham council has put in £1.5m with funding from other sources. Councillors agreed to the plans last month, subject to securing the money.
The authority said it would work with traders on the development which has proved controversial.
Work on the facility, built over two floors, is ​​​​expected to start next January and be completed in 2018.
It will include market stalls, gallery exhibition spaces, performance areas with tiered seating and a food court.
The Welsh government's Vibrant and Viable Places Programme has contributed £700,000 towards the project.