Moneysupermarket.com hot pants ad got 1,500 complaints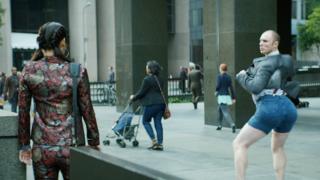 An advert showing a man strutting down a street in high heels and hot pants was the most complained about in 2015.
Flintshire based-Moneysupermarket.com's ad received 1,513 complaints - double that of the second most criticised ad - claiming it was offensive.
Others told the Advertising Standards Authority (ASA) the man's clothes and dance moves were "overtly sexual".
The ASA said it did not judge it to be offensive and it did not breach its code.
But the advertising regulator acknowledged some viewers might have found the television and online advert, featuring a man called Dave dancing to the Pussycat Dolls' song Don't Cha, to be "distasteful".
Moneysupermarket, based in Ewloe, said public feedback on the ad was "overwhelmingly positive".
A spokesman said: "It really caught their [the public's] imaginations: the official video was viewed more than three million times and spawned countless parodies, including The Sun front page with George Osborne, before winning 2015 Campaign of the Year."