Wrexham's new 'super-prison' to be named HMP Berwyn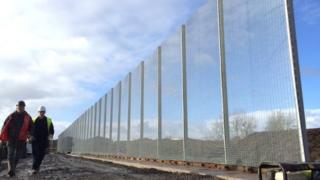 The new "super-prison" in Wrexham will be named HMP Berwyn, it has been announced.
Schools and community groups were invited to come up with names for the £250m complex, which is due to open in 2017 and will house 2,000 inmates.
The Ministry of Justice said the name reflected the "rich history and culture heritage" of north Wales.
Prisons Minister Andrew Selsous said: "I was pleased to see how many people got involved."
Russ Trent, who will be governor when the prison opens, said: "We had a number of suggestions for Mynydd, the Welsh word for mountains. This reflected the Welsh landscape but also the personal and sometimes difficult journey the men in the prison may be making.
"The sub-committee liked this representation but also wanted it to be reflective of the area and so suggested Berwyn."