Chirk's Whitehurst Gardens secures restoration grant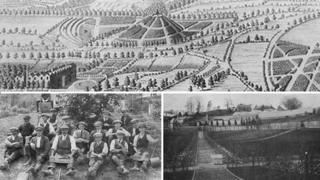 Plans to restore a historic garden designed over 360 years ago in Wrexham have been given a £10,000 boost.
Chirk Castle's former owner Sir Thomas Myddelton created nearby Whitehurst Gardens in 1651 as retreat.
But the walled garden, complete with a viewing mound and ornamental features, has long since fallen into decline.
Friends of Whitehurst Gardens (FWG) has just secured Heritage Lottery Fund money to finance surveys to find features hidden by time.
They hope to uncover a triangular lake or canal which is thought to have become buried.
FWG said work was needed to protect the Grade II* garden as it was at risk of becoming "lost" as its structures were deteriorating.
They are working with Wrexham council, the Welsh Historic Gardens Trust, and experts from Welsh government historic environment service Cadw, Clwyd-Powys Archaeological Trust and the National Trust which manages Chirk Castle.
FWG vice chairman David Lock, head gardener at Chirk Castle, said the money would "enable us to find out what survives of the garden structure under the years of neglect and what our priorities are for the next stage".