Wrexham council uses crowdfunding for standards appeal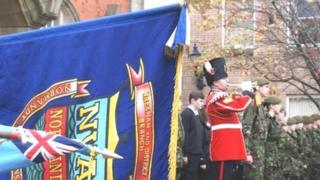 Crowdfunding has been used by Wrexham council to preserve ceremonial standards for war veterans' groups.
It is the first time Wrexham has turned to an online funding platform, as it appeals for £12,000 in public support.
The authority is looking at new ways of raising funds as it has to make £45m in budget cuts over the next three years.
The money will be used to make cabinets to hold standards of the Eighth Army Veterans, Normandy Veterans, Korean Veterans and Burma Star Veterans.
They will then go on show at the council chamber at the Guildhall.
About £2,000 has already been raised for the campaign which runs until June.