Landlord fined £21,000 over migrants' housing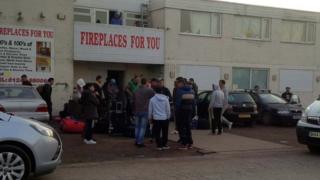 A businessman has been fined £21,000 after 107 migrants were found crowded into unsuitable conditions in a building in Flintshire.
They were discovered during a raid on the property at Deeside Lane, Sealand, in March 2015.
John Russell Brown and his firm admitted 12 charges relating to the building's condition.
He had been charging people over £50 a week in rent, netting about £23,000 a month, Wrexham magistrates heard.
A court hearing in December was told there was an "imminent risk of fire" at the property which did not have any heating or hot water.
Tenants, including an eight-year-old child, were crowded into small rooms, which included beds propped up on bricks.
They were mainly eastern European migrants working as vegetable pickers.
The charges admitted by Brown and his company, Hyperion Investments, related to the building and the danger and risk to health of the occupants inside it.
The raid was the first of its kind in Flintshire and involved police, Flintshire council, the Red Cross and government agencies.
Brown was ordered to pay a £21,000 fine with more than £56,000 in costs.
Magistrates told Brown he put the health and safety of the tenants at risk and the fine reflected the "seriousness" of the case.
They were shown a video taken by police during the raid on the property, a former fireplace showroom.
It revealed a dilapidated interior, a warren of small and cramped rooms, sometimes shared by up to 10 people, with missing ceiling panels and hanging electrical wiring.
The building was evacuated following an inspection which found that, due to the condition of the wiring, the building was at imminent risk of fire, and did not have adequate fire alarms or escape routes, or fire-fighting equipment.
In mitigation, Richard Thomas, defending, said the landlord had originally expected around 20 or 30 migrants would be living in the building but the numbers swelled last year when leeks and daffodils were being harvested and things got "out of control".