Stolen wood scarecrow statue Tattybogle found in Wrexham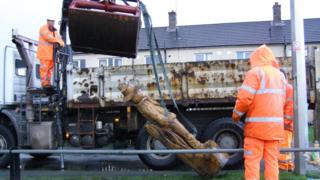 A wooden sculpture stolen just before its official unveiling four months ago has been found in Wrexham.
The 2m-high (6ft 6in) oak sculpture of a scarecrow was taken from Caia Woods soon after it was put in place in September.
Wrexham council said it reappeared nearby on Wednesday morning, none the worse for its ordeal.
The artwork, named Tattybogle, was made by tree carver Simon O'Rourke with help from local children.