New Year Honours: Lamb producer Daphne Tilley's MBE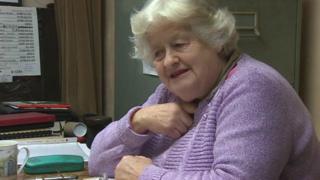 A lamb producer who supplies top London restaurants and stores has been honoured with a MBE.
Daphne Tilley, 73, of Henllan, Denbighshire, is founder of Daphne's Original Welsh Lamb.
Mrs Tilley, a grandmother, is recognised for services to the food industry, particularly Welsh lamb.
There are also MBEs for mental health nursing director Avril Devaney, of Holywell, Flintshire and Philippa Griffith, 75, of Corwen, Denbighshire.
Mrs Griffith is recognised for her work as governor of Ellesmere College in Cheshire and as a prison visitor at Shrewsbury.
Mrs Tilley said she learned of her honour with "absolute amazement".
Her meat has been served to the Queen and US President Barack Obama.
She said it was hard work promoting Welsh lamb in London and abroad and had not expected recognition for it.
"As farming got tighter and prices were falling, I thought this is ridiculous. Meat's very expensive in London, why isn't Wales getting more benefit from it?"
Lucille Ingman, 84, of Leeswood, Flintshire gets a MBE for her charity and community work, including for leading fundraising for her local hospice.
She also founded Pontybodkin Ladies Guild in 1968 and has been in the past a Brownies leader, community councillor, rambler and fund-raiser for a local male voice choir.
There are BEMs for Rosemary Corbett-Thomas for her services to the scouts in Llangollen and Thomas Roberts, 79, also of Llangollen, who is a volunteer driver with dial-a-ride and also has been involved in a Rotary youth exchange with India. Mary Parry gets a BEM for her work with Wrexham Care Association.