Timber test reveals age of Plas Teg house, near Wrexham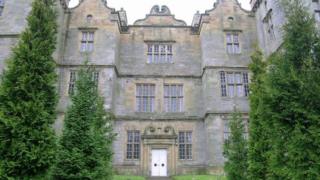 An imposing Jacobean mansion on the Wrexham-Flintshire border has dominated the landscape for over 400 years.
Experts remain undecided about who designed Plas Teg, near Mold, and there was no definitive proof revealing when it was actually built - until now.
Results of core samples taken from the timbers in the servants' quarters show the trees were actually felled in 1602.
Welsh building preservation trust Love My Wales has secured grants to fund more research about the grand house.
Architectural historian Mark Baker said no-one knew for sure who had drawn up the architectural plans to help Sir John Trevor I to build the property, which is thought to have taken its inspiration from classical properties on the continent.
The earliest written record of a suggested date is believed to be from notable 18th Century traveller and naturalist Thomas Pennant who wrote that it was built in 1610.
Now, the results of dendrochronology tests show trees used in its construction were felled in 1602 and 1604, adding support to Pennant's assertion.
That information can aid further research work which is to be undertaken among records in Flintshire council's archives and the National Library of Wales and Royal Commission on the Ancient and Historical Monuments of Wales in Aberystwyth (RCAHMW).
Ground surveys and stone analysis are also due to be done by specialists to understand more about the landscape, as well aerial and ground surveys to try to find any remaining sections of the estate's deer park wall.
Grants have been awarded by Vernacular Architecture Group, Council for British Archaeology and Cambrian Archaeological Association.
Plas Teg was primarily a family home and the setting for lavish entertainment put on by the Trevors throughout the early 17th Century.
During the 18th Century, Lord and Lady Dacre inherited Plas Teg and altered the house, gardens and outbuildings, a trend continued by their heir in the early 19th Century.
The house and outbuildings were requisitioned by the War Office to house soldiers and in 1945 it was sold to Dodds the auctioneers who used it as a furniture store.
In 1986, it was bought by Cornelia Bayley, an antiques dealer and interior designer who has since been restoring the property and its grounds near Caergwrle.
The RCAHMW has over 90 images of Plas Teg on its website.