Wrexham solar farm rejected due to great crested newts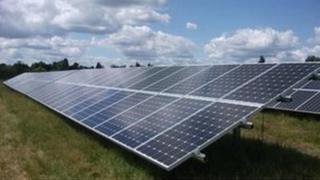 Plans for a solar farm in Wrexham have been turned down because of concerns for a colony of great crested newts.
TGC Renewables said the 24.8-hectare (61-acre) site between Bryn Lane and Francis Lane could power 4,280 homes or businesses on Wrexham's industrial park.
Planning officials said the company failed to show it would not have a harmful effect on the protected newts.
Councillors said it could prejudice the forthcoming local development plan.
They said it could prevent proper consideration being given to potential employment sites on the edge of the industrial estate.