Four men die after crash on A5 in Corwen, Denbighshire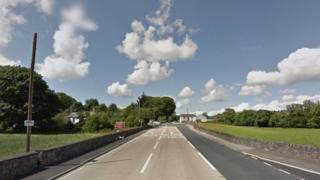 Four men have died following a two-car crash on the A5 in Denbighshire.
A Vauxhall Astra and Vauxhall Zafira where involved in the collision near Druid traffic lights at Corwen at about 11:40 GMT on Saturday.
Three young men from Corwen, who were in the Astra, died at the scene, North Wales Police confirmed.
Two men, from the Merseyside area, in the second car were flown to hospital in Stoke with "serious injuries". One later died of his injuries.
Alan Sayer, a businessman who knew one of the three victims from Corwen, said: "It's a real tragedy, especially around Christmas time.
"I imagine everybody would know the three involved, especially with them being young lads and they are all local."
Ed Steenman, a cafe owner in Corwen, said: "Most of the people are just devastated."
Police are investigating the crash and have appealed for witnesses to call 101.
Officers are keen to speak to a woman in a small, red vehicle and two people in a black 4x4 who helped at the scene.
On Friday, a woman in her 80s died after being hit by a lorry on the same road.