Archaeologists excavate Neolithic cave in Flintshire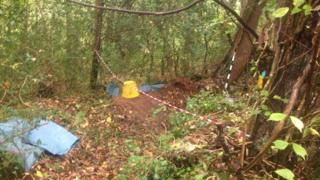 Archaeologists are excavating a cave where 5,000-year-old human bones were discovered in the 1970s.
Experts have returned to the site at Loggerheads Country Park, near Mold, Flintshire, to see what else remains since the discovery at Ogof Colomendy.
The exact location of the site is normally a closely-guarded secret.
However, a series of escorted site visits are being held over two days as part of a series of information sessions.
Denbighshire's country archaeologist Fiona Gale said the new excavation will establish whether any undisturbed remains are on the site, which was first discovered by caving enthusiasts.
"Underneath our feet they found the remains of human bones and some tools, some animal bones," she told BBC Radio Wales.
"There are stone tools that seem to date to a period about 5,000 year ago."
Those finds in the 1970s are with the National Museum of Wales, including Neolithic bones from at least three individuals.
But now archaeologists led by the Clwyd-Powys Archaeological Trust have returned.
Ms Gale said: "Are there any undisturbed remains where there might be burials. Because if there are, that is very important and we should be trying to protect them."
Permission was needed from environment body Natural Resources Wales to undertake the dig as the site lies in a protected conservation area.
If fresh finds are made, conservation officials could then seek to have the cave listed and protected as an ancient monument.