Upgrade work to start on Wrexham to Chester rail crossings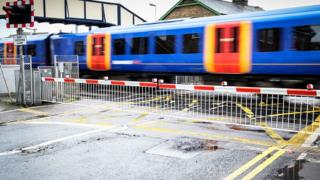 Level crossings on the railway line between Wrexham and Chester are being upgraded to improve safety and increase the number of journeys.
Four crossings will be changed from half barriers to full ones and extra track will be laid.
Work is being done at crossings in Balderton, Rossett, Saltney and Pulford which will see some road closures.
Public meetings will be held, starting on Wednesday, to discuss the work with people in the area.
James Jackson of Network Rail Wales said: "We are carrying out work which will allow for more frequent and faster journeys for the increasing numbers of passengers travelling between north and south Wales.
"I'd like to apologise for any disruption this work may cause and thank the local community for their patience."