Vulcan bomber makes final Welsh flight over Rhyl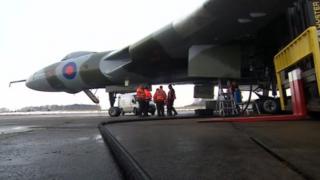 An iconic Cold War British Vulcan bomber has made its final flight over Welsh skies.
The Vulcan XH558 took part in the North Wales Air Show at Rhyl, Denbighshire, on Saturday as part of a final series of displays which end in September.
More than 180,000 people are expected at the air show over the weekend.
The aircraft was operational from the 1950s to 1985. Charity Vulcan to the Sky Trust said the restored aircraft was beyond its flying hours.
Denbighshire council said it had received Civil Aviation Authority (CAA) guidance after the Shoreham air crash last weekend, adding safety would be a top priority at the show in Rhyl.