RSPCA continues appeal over suspected Flint badger baiting incident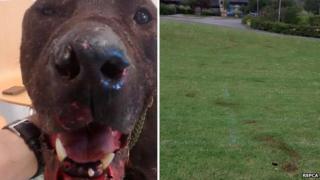 The RSPCA has continued its appeal for information on a suspected badger baiting incident in Flintshire.
An investigation was triggered when residents of Ffordd yr Ysgol, Flint, found a female badger dead in a pool of blood on Saturday morning.
A dog - a bull breed cross lurcher - was also discovered abandoned in playing fields near Cornist Park County Primary School with serious injuries.
RSPCA inspector Anthony Joynes urged people with details to come forward.
The dog, named Flint after where he was found, was taken to a vet for treatment and is now in RSPCA care.
"He is doing well and is alright - but he is bruised and probably will have to have some teeth out," Mr Joynes said.
"We are still appealing for information. Someone needs to come forward and give us some detail about what happened."
Anyone with information about the incident can contact the RSPCA on 0300 123 8018.