U-turn on taxi driver shorts ban by Denbighshire council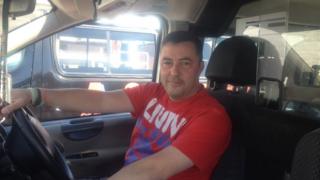 A ban on Denbighshire taxi drivers wearing shorts has been reversed.
It came into force on 1 May in a bid to give the county's 400 licensed taxi drivers "a more professional image".
But after more than 500 people signed a petition in protest, the council's licensing committee agreed to reconsider the issue on Wednesday.
The committee decided taxi drivers will be allowed to wear shorts, as long as they are "tailored" and "appropriate".
Rhyl taxi driver Colin Howell had described the ban as a "joke" and a "farce".
He said: "It's far too hot in a taxi. To wear shorts cools us down and stops fatigue.
"The council should stop having silly meetings about taxi drivers wearing shorts and get Rhyl back to being the town it once was.
"It's a joke to be honest. It's just a farce."
Some drivers in Rhyl have been reportedly wearing kilts to work in protest.
The authority's public protection manager Emlyn Jones said six drivers had attended a consultation workshop prior to the policy being introduced and all had been in favour of the ban.