Lorries at contaminated soil village Coedpoeth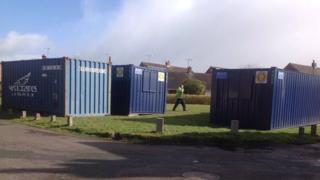 Lorries have arrived at a village near Wrexham in preparation for work to remove lead-contaminated soil from gardens dating back 200 years.
Eighteen households, mainly in Coedpoeth but also in Brymbo, have been told the levels are too high and that remediation work is needed.
But residents are being asked to meet some of the cost, ranging from £2-10,000, and say they are "furious".
The Welsh government and Wrexham council are working to help them.
It is thought contractors were in Coedpoeth on Monday to set up a work site and that digging could start next week.
Julie Hinchcliffe, who lives in one of the properties affected on Smelt Road said the group - Lead Astray - was still pressing for a meeting with the natural resources minister, Carl Sargeant.
She added that the group had launched a petition on Friday to ask Danny Alexander MP, the chief secretary to the Treasury, to agree to fund 50% of the cost of the work, as he did for a group of residents with a similar issue in Scotland.
They want the Welsh government to find the other half.
The Welsh government previously said that the Environmental Protection Act 1990 states that the appropriate person to pay for the clean-up of contaminated land should be the person who "caused or knowingly permitted" the contamination or, if they are no longer in existence, then it falls to the "current land owner or occupier of the land".
It said it is working with Wrexham council to help residents "secure a way forward".