Coedpoeth and Brymbo villagers face contaminated land bill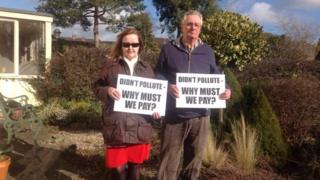 Residents in two Wrexham villages face clean-up costs of up to £10,000 each to remove lead contamination found in their gardens dating back 200 years.
A total of 18 households from Coedpoeth and Brymbo, who live on the sites of former lead smelting works, have been told they have to part-fund the works.
Resident Julie Hinchliffe said fellow neighbours were "absolutely furious".
The Welsh government said it was working with Wrexham council to help residents "secure a way forward".
Mrs Hinchliffe said: "The law of the polluter pays doesn't work here, because the polluter died hundreds of years ago."
'Difficult position'
She and other residents have formed an action group to lobby politicians.
They hope to follow in the footsteps of residents in Blanefield in Scotland who faced a similar clean-up bill for contaminated land before the UK government and local council stepped in last year.
In a statement, a Welsh government spokesperson explained that the Environmental Protection Act 1990 states that the appropriate person to pay for the clean-up of contaminated land should be the person who "caused or knowingly permitted" the contamination or, if they are no longer in existence, then it falls to the "current land owner or occupier of the land".
The spokesperson added: "The Welsh government acknowledges the difficult position that residents are currently in and we are continuing to work very closely with Wrexham County Borough Council to help them secure a way forward."
The first phase of clean-up is due to start next Monday.