178-year-old Bible found in Wrexham charity shop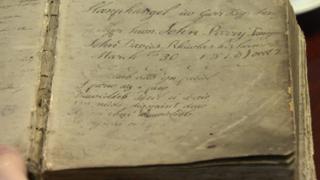 A hospice in Wrexham is hoping to re-unite a centuries-old Bible with relatives of the family who owned it.
The 1837 Welsh Bible contains family inscriptions and shows it was given to different generations over the years.
It turned up in a bag of items donated to a Nightingale House Hospice charity shop in Wrexham.
It appears to have first been presented to a man named John Parry in Llanfihangel in the old Montgomeryshire county shortly after being published.
The last recorded owner is Arthur Wyn Lloyd in 1961 at Hendre, possibly the village near Mold.
Hospice retail development manager John Donnelly said: "We do get a number of Bibles but we've never had one as old as this one and that's what makes it so interesting to us.
"Who knows what sort of journey the bible has been on.
"It may not have come to us from a family member, so it would be nice for it to be reunited with the family."