Faster internet broadband for Wrexham Industrial Estate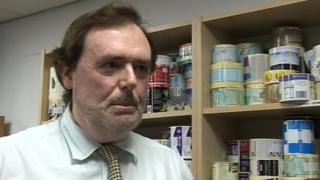 An industrial estate where firms say slow broadband connections has hit business is to get access to a high speed fibre service.
BT describes the investment as a "vital step forward" for the 400 firms on Wrexham Industrial Estate which is one of the biggest in Europe.
Wrexham Economic Forum chairman Tom Bunce described internet speed as "slow and flaky" on and the estate.
The service starts in the new year.
BT said the first roadside cabinet on the estate has been prepared ready to start providing fibre broadband to premises.
Mr Bunce said the demand for internet access from most of the firms on Wrexham Industrial Estate had caused its own problems, affecting speed and reliability.
"Any improvement which will enable faster and more stable internet access for our businesses is welcomed," he said.
"BT's high speed fibre broadband can't come soon enough."
BT is partnering the Welsh government on its Superfast Cymru project to install fibre broadband around Wales.