Milk snake found in garden in Bradley, Wrexham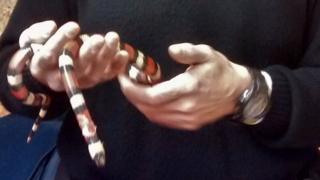 A milk snake has been found in a person's garden in Wrexham.
The reptile was found in Bradley on Tuesday by the homeowner, who called the RSPCA to collect it.
RSPCA inspector Mark Roberts said: "The snake was very cold but still alive. After warming up overnight, the snake was much more active.
"This is likely an escaped pet, so we are appealing for the owner to come forward."