Bid to open new curling facilities near Deeside ice rink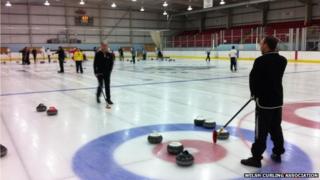 A bid to open a dedicated ice curling facility in Deeside has been launched as demand to play the sport has risen since the Winter Olympics, say officials.
Six clubs share the rink at Deeside Leisure Centre one night a week and now there is a waiting list to join.
The Welsh Curling Association, set up in 1974, is hoping to open portable facilities near the leisure centre.
It has submitted an application for help to the World Curling Federation.
Team GB men's curlers won silver and the women won bronze at Sochi 2014.
If successful, the federation will finance the facilities in an insulated tent, giving the association time to establish a bigger membership base to provide enough income to run its own facilities.
Currently, there about 120 people who are members of the six clubs based in north and mid Wales.
The federation will announce the successful bidder for funding from its Portable Curling Facility programme in March.