St Asaph flood risk plans on show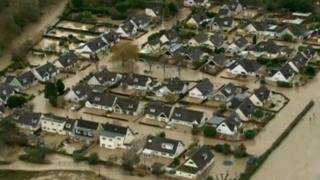 Long-term plans to reduce the flooding risk in St Asaph are being unveiled, two years after an elderly woman died and 400 homes were evacuated.
Natural Resources Wales (NRW) aims to improve the city's flood defences and manage drainage upstream.
A drop-in session on Wednesday will let the public view the plans.
"We can't always prevent flooding from happening but we believe we have a good proposal to significantly reduce its likelihood," said Tim Jones of NRW.
Margaret Hughes, 91, died when the small Denbighshire city was inundated after the River Elwy burst its banks in November 2012.
The incident prompted a major overhaul of emergency evacuation procedures.
Since then, NRW and other agencies have been trying to ensure the city is better prepared.
In its long term plan, as well as flood defences, there be will natural measures such as tree planting and land drainage in both the Elwy and River Clwyd catchment areas.
NRW believes its preferred option will give "long-term, peace of mind".
Residents can view the proposals on Wednesday 10 December at the Oriel Hotel in St Asaph, 14:00 to 19:00 GMT.
Following the drop-in session, NRW will approach the Welsh government for funding in spring next year.
Once it has the go ahead, it will begin detailed planning before starting work in spring 2016.
In the meantime, short-term measures to reduce flood risk are in place on the Elwy.