North Wales Bowls Centre hosts world under-25 competition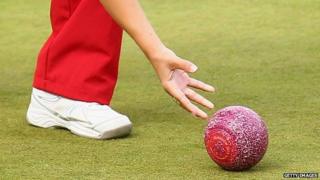 A Denbighshire bowls centre is hosting a world championship just two months after being officially reopened.
The new North Wales Indoor Bowls Centre in Prestatyn closed this year when the trust running it ran out of money.
Clwyd Leisure Ltd went into administration after Denbighshire council withdrew funding.
But the bowls centre was refurbished over the summer by the council and is now hosting the World Under-25 Indoor Bowls Championship.
Clwyd Leisure Ltd was set up by Denbighshire council in 2001 to run the bowls centre, Rhyl Sun Centre and Prestatyn's Nova Centre on its behalf.
However, the council's cabinet decided to withdraw financial support of £200,000 for 2014/15 and Clwyd Leisure ceased trading in February.