Wrexham anti-fracking group evicted at Borras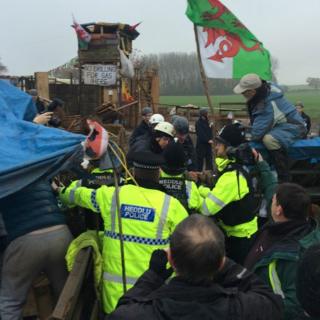 A protest camp set up to try to stop test drilling for underground gas in Wrexham has been cleared after bailiffs and police evicted campaigners.
Opponents set up a camp five weeks ago after a Welsh government planning inspector overturned a decision by Wrexham council to block the plans.
An eviction notice was served on the group on private land near Borras last week. North Wales Police and bailiffs arrived at the site early on Thursday.
One person was arrested.
While some protesters remained illegally inside the camp, many local campaigners stood along the road opposite the field.
However, the site was cleared by the afternoon.
A firm wants to explore the coal bed for methane gas.
Opponents are concerned it may pave the way for future extraction.
But the company, GP Energy, has previously insisted it is just exploratory drilling and has no plans for fracking - a controversial method of extracting gas from rock.
Some residents are also concerned that the underground exploration site, between Holt and Gresford, could be in the area where the bodies of miners are thought to lie from a pit disaster which cost 266 lives 80 years ago.
Miners and some rescuers died in the underground explosion at Gresford Colliery on 22 September, 1934.