Llangollen chain bridge could reopen by March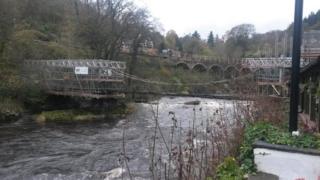 Workmen have begun removing sections of Llangollen's historic chain bridge in a £465,000 restoration project which will see it reopened to the public after more than 30 years.
Contractors are using roped access over the River Dee to dismantle parts of the metalwork while the decking will be restored off-site.
Reassembly could take place in February and the bridge could be open by March.
It was closed because of safety concerns.
The local town and community councils bought it for a nominal £1 sum to try to ensure its restoration.
The current bridge was constructed in 1929, although the original was built in 1817.
It was devised by a local coal merchant looking to create a cheap transport route across the River Dee to enable coal from Llangollen Canal to cross the river to the A5 road, bypassing tolls.
Llangollen Town Council and Llantysilio Community Council have been trying to raise funds to carry out the bridge's repairs since 2007.
The Heritage Lottery Fund pledged £350,000 last year.