Man dies in fire in Rhyl property, inquiry launched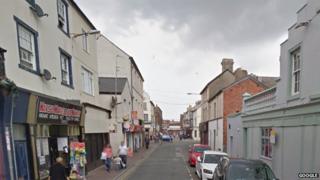 A man believed to be in his late 40s has died after a fire at a property in Rhyl on Wednesday morning.
North Wales Fire and Rescue Service were called to the property on Sussex Street just after midnight.
Firemen discovered the man's body after entering the building using two sets of breathing apparatus and one hose reel.
The fire service and North Wales Police have launched a joint investigation and will return to the scene later on Wednesday.
Supt Steve Williams said: "North Wales Police and North Wales Fire and Rescue Service are conducting a joint investigation to establish the cause of the fire. Part of that investigation will include speaking with members of the community who may have been in the area at the time."
Meanwhile, four children and a woman have been treated for smoke inhalation after a started in a dishwasher at a house in Deeside overnight.