Plane crashed at Hawarden Airport 'due to lack of fuel'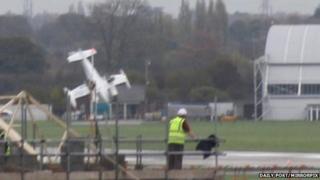 A pilot killed in a light aircraft crash which also killed his partner was not carrying enough fuel to safely complete their flight, a report says.
Gary Vickers, 58, and passenger Kaye Clarke, 42, both from Chester, died after their Cessna aircraft crashed at Hawarden Airport, Flintshire.
The Air Accidents Investigation Branch report said the left engine of the aircraft lost power due to "fuel starvation".
The aircraft had flown from Paris.
Main tanks
The accident report said the majority of the aircraft's usable fuel at the time of the accident was in the auxiliary tanks, which were not selected for the engine feed.
"From the available evidence it is probable that the pilot originally intended to complete the flight using fuel from the main tanks only, and loaded them with what he considered to be a sufficient quantity," it said.
"However, the main fuel tank quantity was insufficient for safe completion of the flight."
The report said Mr Vickers died at the scene. Ms Clarke was rescued from the wreckage and taken to Chester hospital but later died.