Man arrested for Nazi salute during WW1 commemorations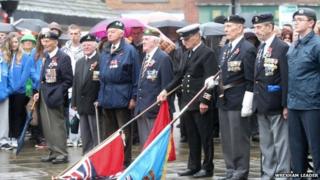 A man has been cautioned by police after giving a Nazi salute at a remembrance parade in Wrexham.
The 20 year old was arrested for a public order offence on Queens Square on Tuesday morning.
Inspector Paul Wycherley of North Wales police tweeted following the incident: "#norespect".
Service men and women marked Armistice Day with a two minute silence and trumpet call in Wrexham town centre.