Jobs boost for former Hotpoint site as new owners take over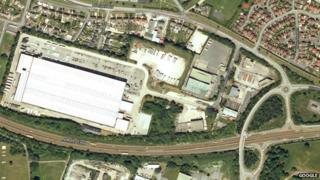 An automotive company is set to give the former Hotpoint site in Bodelwyddan a new lease of life.
Italian-owned Reflex & Allen UK is relocating to the old washing machine factory as part of its expansion plans.
The £4m investment by the company, with £1.2m support from the Welsh Government, has already created 35 jobs and will safeguard a further 50.
Hotpoint, which once employed 1,000 people, closed in 2009 with 300 job losses.
The 170,000 sq ft facility will house the vehicle parts firm after it relocates from its 70,000 sq ft site in Kinmel Park Industrial Estate.
The acquisition is part of the company's growth plans and a business strategy that hopes to double turnover.
Expansion plans
Economy Minister Edwina Hart said: "This is a significant investment by the company and a strong commitment to its long-term presence in north Wales.
"I am also delighted to hear the company plans to diversify into new markets and create more jobs in the future."
Reflex & Allen managing director Gabriele Da Re said: "The size of our current site is restricting further development and growth so it was vital to invest in larger premises.
"We have plans to expand the business, make inroads into the passenger car market in the UK and our target is to double turnover at our Welsh site within five years to £80m."
The company currently employs 280 people and designs and manufactures pneumatic and hydraulic tubing, electrical cable and formed tube assemblies for large trucks and engine manufacturers.