Children's homes boss John Allen denies sex interest in boys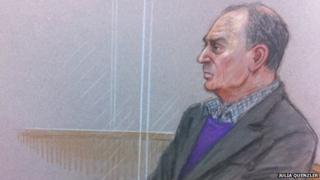 A north Wales children's homes boss accused of sexually abusing children has denied ever having a sexual interest in young boys.
John Allen, 73, of Needham Market, Suffolk, denies 40 counts of sexual abuse against 19 boys and one girl in the late 1960s up to the early 1990s.
Mr Allen, who owned and ran homes near Wrexham, told Mold Crown Court he was "happily married" to his second wife.
But he admitted his sexuality could today be "regarded as bisexual".
When asked by his barrister, John McDermott QC, defending, if he had ever consummated a homosexual relationship, Mr Allen replied: "I had a fling, but it was nothing."
Mr McDermott asked: "Were you interested in young boys?"
"No," Mr Allen replied.
'Different philosophy'
Asked about his sexuality, the former hotelier and pop band manager, said: "I suppose it is very difficult when you are young to analyse your sexuality. I suppose I could be regarded as bisexual by today's standard."
Mr Allen, whose homes were collectively known as the Bryn Alyn Community, told the court he did not have any qualifications in childcare but had help and advice from local medical professionals.
He said the philosophy of Bryn Alyn was "different" and he saw it as offering an "alternative to the then approved schools".
"Our alternative was to have a much more flexible approach," he said.
"We felt there was room to deal with delinquent youngsters in a different way, a more open approach where youngsters would be allowed to develop at their own pace."
The court has previously heard from a former resident of one of the homes who claimed it was run with an "iron fist" and there were regular physical beatings.