Ambulance service probe delay reaching Sion Davies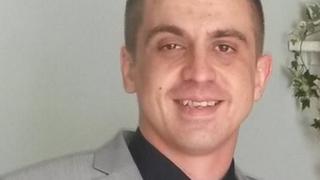 An investigation has begun into delays getting an ambulance to an alleged murder victim in Wrexham.
Paramedics took 24 minutes to reach Sion Davies, 25, who died on the town's Caia Park estate in the early hours of 11 October.
The Welsh Ambulance Service target for reaching urgent and life threatening calls is eight minutes.
It said crews were busy with other patients and were unable to respond "as quickly as we would have liked".
Mr Davies was pronounced dead outside a house on the Caia Park estate's Deva Way.
Two men, aged 32 and 53, have been charged with his murder.
'Learn lessons'
The Wales Ambulance Service received a 999 call at 00:37 BST and an ambulance was dispatched from Flint at 00:43 BST.
A West Midlands ambulance confirmed it would attend from Oswestry at the same time and was the first to arrive at the scene at 01:01 BST.
The ambulance from Flint arrived five minutes later.
A Welsh Ambulance Service spokesperson said: "At the time of this call, all of our crews were already committed to patients who had dialled 999 prior to this incident, and this meant we were unable to respond to this call as quickly as we would have liked.
"We are working with our health board colleagues to understand what lessons can be learned from this incident."