Body camera trial for Denbighshire parking officers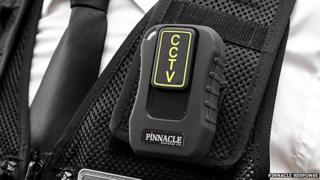 Body-worn cameras are being trialled to help improve the personal safety of parking inspectors in Denbighshire.
The cameras are no bigger than a mobile phone and securely attached to the officer's clothing.
It is hoped the trial by Denbighshire council, running until mid-November, will make the jobs of parking officers easier.
The use of body worn cameras has increased in parking enforcement in recent years.
The police have increased their use of the cameras following the "plebgate" row in 2013.
The move by the College of Policing came after concern that the scandal involving London police and conservative MP Andrew Mitchell had dented public confidence.
Gwent Police were one of six UK police forces to begin trialling the technology in January this year.