St Asaph revealed as Wales' sewage blockage capital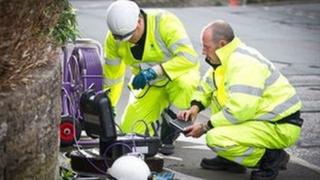 A small city more famous for its cathedral and musical festival has been revealed as Wales' sewer blockage hotspot.
Welsh Water has been called to deal with 134 blockages in the past two years in St Asaph, Denbighshire.
The company spends £7m a year clearing 2,000 blockages across Wales.
Head of wastewater networks Andrew Harris said most blockages are caused by items such as wet wipes and cotton buds being flushed down the toilet.
There were 71 blockages reported in St Asaph in 2013-2014, up from 63 in 2012-2013; seven of these resulted in flooding near homes or businesses.
Welsh Water looks after 20,000 miles of sewers and deals with 2,000 blockages a month.
Its staff spend 28,000 hours, or just over three years, clearing them every year.
Top 10 causes of blockages in Wales' sewers
Make-up wipes and nappy wipes
Fat, oil and grease from cooking
Nappies and pads
Food waste and peelings
Chewing gum
Dental floss
Cotton buds
Plasters
Drain rods
Building debris