St Asaph flood death: Margaret Hughes 'had no alert'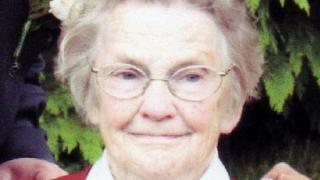 A 91-year-old woman who died during severe flooding had joined a flood warning scheme but an alert failed to reach her, an inquest heard.
Margaret Hughes was found drowned in her bungalow during floods at St Asaph, Denbighshire, in November 2012.
She had signed up to receive alerts through her daughter Gwenda Jones's mobile phone, who she said she did not get one on that day.
Water levels rose by up to 7ft (2.1m) in about 30 minutes.
Film footage from inside Mrs Hughes's house played to the inquest showed a bed was nearly submerged in one room with objects and furniture floating around it, while in the kitchen, the floodwater was up to the level of the worktops.
Inundated
Firefighters, lifeboat crews and police were among those involved in the evacuation of residents after more than 400 homes and businesses were inundated.
Great-grandmother Mrs Hughes did not have a landline or mobile phone so her daughter, Gwenda Jones, opted to receive the flood alerts via mobile on her behalf.
She told the inquest she had never received a phone warning before.
On 26 November, she switched her phone off "just after midnight", as she normally did.
Mrs Jones was told about the river Elwy bursting its banks the following morning at about 08:00 GMT by her son.
She immediately switched her phone on. Asked if there were any messages relating to flood warnings on the phone, she told the inquest: "None whatsoever."
Previous warnings
Mrs Jones said residents where her mother lived had received flood warnings in the years before, and had been evacuated, but the incidents had not been serious.
She said: "They'd had two previous flood warnings there and there were no problems at all there... the first one was around the year 2000 and the other one was a few years after."
Mrs Jones said it was a "possibility" her mother could have thought: "Well I'm still safe in my own home."
Mrs Jones added: "I don't know what was going through her head that morning."
The inquest heard Mrs Hughes had suffered osteoporosis for 30 to 40 years, but according to her daughter she was very independent.
Mrs Jones said her mother had a pendant-style panic button which she kept on a unit in the house.
Asked by the coroner whether her mother had a landline, she said no.
She added: "We were trying to sort one out for her."
'Vulnerable lady'
The inquest also heard from neighbour Joseph Jones, who spoke of Mrs Hughes being "vulnerable".
He told how she was sometimes "reluctant" to accept help, but would often try to help others.
Mr Jones said: "She was pretty independent but I did help now and again with little things."
Speaking about the night of 26 November, Mr Jones said he and his wife received a flood alert at 22:30 BST.
Early the next morning, he got up to move his car and saw two police officers with their vehicle.
Mr Jones said he told the officers he was "worried about an elderly lady who lived next door and she was a very vulnerable lady".
Asked about the police response, he said: "I'll take a note of that or something to that effect".
Following another flood alert, Mr and Jones and his wife decided to leave their property the following morning.
He said the water was "rushing past the bungalow… and rising".
The hearing is due to last five days.