John Allen trial: 'Culture of fear' at children's homes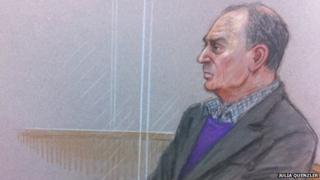 A hotelier who opened a string of children's homes in north Wales created a "sexualised atmosphere alongside a culture of fear" as he abused 20 children in his care, a jury has heard.
John Allen, 73, ran the Bryn Alyn Community, a group of homes near Wrexham, which became one of the UK's largest providers of residential care.
Mold Crown Court heard Mr Allen was a "regular and formidable presence" at the homes from the 1960s to the 1990s.
He denies 40 counts of sexual abuse.
The jury has been told the allegations involve 19 boys and one girl, the youngest aged seven and the oldest aged 15.
'Highly vulnerable'
Most of the alleged abuse is said to have taken place at three of the homes, Bryn Alyn, Pentre Saeson and Bryn Terion.
Prosecutor Eleanor Laws QC said Mr Allen, of Needham Market, Suffolk, was a hotelier by trade and was not qualified for the work he was doing.
She told the court he employed staff to look after the children but involved himself in some of the work duties including at night.
Boys at the homes described him as abusive and at times violent and often under the influence of drink, particularly during episodes of alleged sexual abuse.
When interviewed by police, Mr Allen described the children as being "delinquent and out of control".
Ms Laws said: "It is clear that these boys were often troubled and highly vulnerable.
"Those charged with their care had no doubt a challenging task but they had a great deal of responsibility and trust placed in their hands. None more so than this defendant."
Expensive gifts
Children would be denied medical treatment at times for what appeared to be serious injuries.
Ms Laws continued: "They said the staff appeared to be either fearful of him or were colluding with him.
"He created what has been described as a sexualised atmosphere within the homes, alongside a culture of fear.
"He was seemingly, without being called to account, able to sexually abuse these boys on a regular basis."
Some of the victims were groomed by Mr Allen who would give them expensive gifts, including cash, clothes and on one occasion a motorbike.
"Others described being pestered, threatened and subjected to violence by John Allen," said Ms Laws.
The court heard some children resisted the abuse and continued to do so over a long period of time, but most had to learn to live with it.
"They felt that there was no way out for them at that time," said Ms Laws.
Previous conviction
Some children spoke to those in authority, including the police, but were often ignored or disbelieved.
"Most boys said nothing, either out of shame or with the knowledge that they would not be believed," she said, adding they would hear evidence that Mr Allen sometimes abused the boys with the knowledge or help of other adults.
Girls came to the homes from 1980, leading to an allegation of assault by one.
The jury was told of Mr Allen's previous conviction in 1995 for six counts of indecent assault involving repeated abuse of six boys dating from the 1970s.
More complainants came forward following the publication of the Waterhouse report into abuse in north Wales care homes in 2001 and after the setting up of Operation Pallial in 2012 to investigate claims of historical child abuse, the court heard.
The trial continues.