Volunteers cover up anti-Polish graffiti in Wrexham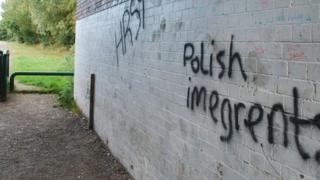 A group of people came together on Saturday to paint over racist graffiti daubed on a wall in Wrexham.
About a dozen residents spent an hour painting over anti-Polish writing under the Whitegate Road bridge.
Community councillor Marc Jones said he was contacted by a resident about the graffiti on Thursday and put a message online looking for volunteers.
He said: "I'm delighted so many people and their kids came out to help.
"Wrexham has got a long history of Polish migrants coming here ever since the Second World War and the latest group, by and large, have integrated well."
Mr Jones said Caia Park Community Council will look at the idea of creating a mural on the wall in the future.