Mark Pritchard voted Wrexham council new leader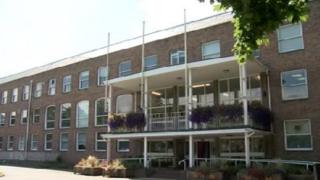 Wrexham council has voted for Mark Pritchard to be its new leader.
Earlier this month 10 councillors, including former council leader Neil Rogers, quit the Labour group and the Labour Party.
Mr Rogers blamed "interference" in Labour group meetings by unelected local party "liaison officers".
On Wednesday evening Mr Pritchard, an independent councillor and former deputy leader on the authority, was voted leader with no other contenders.
He received 34 votes of support with 11 abstentions and no votes against.
Fellow independent councillor Ian Roberts was appointed deputy leader and vice-chair of the executive board.
The council leader position is paid £47,500 a year, with the deputy getting £33,460. Leading executive board members also get an additional £28,780 each.
'Leap of faith'
During the meeting, the council also voted overwhelming to reject any proposal to merge with neighbouring local authority, Flintshire.
The Welsh government has been urging councils across Wales to consider mergers.
But Wrexham's new leader told the council meeting on Wednesday that such a move would be a "foolish leap of faith".
"We need to send a message to the Welsh government that we want to stand alone," said Mr Pritchard.
"This is not voluntary we are being bullied by Cardiff into this merger."