Record marathon runner hits Wrexham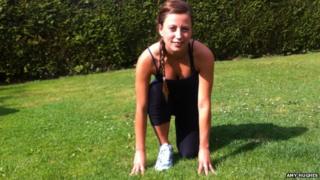 A woman hoping to set a new world record of running 53 marathons in 53 consecutive days will be in north Wales as she nears the end of her challenge.
Amy Hughes, 26, has already broken the women's record of finishing 17 back-to-back marathons and is now aiming to beat the men's record of 52.
She is running her 49th marathon in Wrexham on Tuesday and her 51st in Llangollen on Thursday.
The sports therapist hopes to raise £53,000 for charity.
Before her record attempt, she had previously only run three marathons consecutively.
But she decided to up the challenge to support new charity the Isabelle Lottie Foundation, which was set up after her friend's daughter was diagnosed with a brain tumour.
Although Isabelle has now recovered, the charity aims to raise money to buy equipment for hospitals and support other families in a similar situation.
Miss Hughes has already passed the women's world record of running 17 consecutive marathons, and is on course to break the men's Guinness world record if she completes her 53rd marathon in Manchester on Saturday.
'Fantastic support'
She said: "The whole experience has been amazing and I've met so many brilliant people and stayed in some amazing places.
"Lots of people have been saying how inspired they have been by what I'm doing which is really incredible."
Race co-ordinator Dave Keighley said she should break the record as she has so far managed to avoid any injuries.
"She's got a few niggles but absolutely no injuries," he added.
Miss Hughes trained for up to 70 miles a week in the run-up to the record attempt, which started in Chester in August.
She has since completed marathons in towns and cities across the UK, including Cardiff, Swansea, Edinburgh, London and Newcastle.
She will be running around her hometown of Oswestry on Wednesday.