Prince Charles visits Airbus factory in Broughton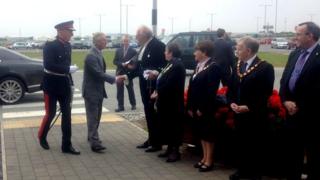 The Prince of Wales has visited the Airbus factory at Broughton, Flintshire, to mark its 75th anniversary.
Prince Charles is touring the site's north factory before opening a new visitor centre.
More than 6,000 people work at the complex, assembling 1,000 wings a year for the Airbus range.
The site began as a heavy bomber production line during World War Two making Wellingtons and Lancasters.
After producing some 5,786 military aircraft for the war effort, production shifted to more than 11,000 pre-fabricated houses in the post-war years.
Aircraft manufacturer de Havilland took over the site in 1948 with the range of planes produced there including Vampires, Venoms, Mosquitos, Hornets and Sea Vixens.
The factory also assembled later versions of the first jet airliner, the Comet.
The first wings for commercial airliners were produced at the site from the early 1970s.
Head of the Broughton plant Paul McKinlay said: "We are honoured to welcome the Prince of Wales to Broughton for this significant milestone in the history of our plant.
"The site has changed considerably in the three quarters of a century since the first factory opened, and we have benefitted from around £1.9 billion of investment in new facilities and equipment since we became part of the Airbus company in 2001.
"Mosquitoes, Doves, Wellingtons and Comets have emerged from this factory over the years, and today we play a part in developing the most technologically advanced civil airliners in the world. Airbus is vital to the continued success of the aerospace industry and this in turn benefits the region and the whole country."