Plas Madoc leisure centre fight wins council support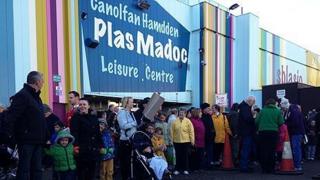 Campaigners fighting to save a Wrexham leisure centre could be given a lease to re-open it and a £50,000 grant to get it running again.
Plas Madoc leisure centre's future has been in doubt since April when it was shut as part of a cost-cutting scheme.
But now a council chief has recommended the lease for the centre is handed to a community trust.
Campaigner Darrell Wright called the decision a "breakthrough".
The battle to save the leisure centre has been going on since the start of the year with the campaign even gathering the support of former Wales footballer Robbie Savage,, who played five-a-side at the centre as a boy.
On Wednesday, Wrexham councillor Hugh Jones, who is the lead member for communities, said he was minded to make a recommendation to a meeting of the executive board next month to grant the lease to the Splash Community Trust.
He said he also expected to include the recommendation to make a one-off £50,000 grant "to enable the trust to meet its immediate obligations under health and safety and financial management".
The fight to retain the centre has also attracted tremendous community support, said Darrell Wright, who added the news of a lease and £50,000 funding was "a start and puts our foot in the door".
According to the campaigner, the bid to save Plas Madoc has 4,000 members on its Facebook page, with supporters from Cheshire and the Midlands backing the leisure centre.
He said he had used Plas Madoc since it opened 40 years ago and it played an important role in a deprived area of south Wrexham.