'Enormous interest' in sale of Howell's School, Denbigh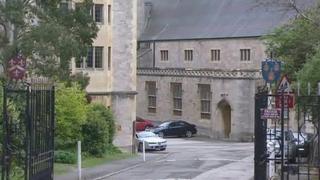 The sale of an independent girls' school which closed last year has attracted so much interest a deadline has been set for bids.
Howell's School in Denbigh which opened in 1859 closed last August after the company running it went into liquidation.
The 37-acre campus has been up for sale with a £2.95m price tag since June.
The campus can only be used for educational purposes but agents are considering the intended uses offered.
Three boarding houses and the former principal's house are included in the sale, along with the main Grade-II listed block.
The school's sport facilities include an equestrian centre, open air swimming pool, four tennis courts, sports hall, squash courts, a climbing wall and caving centre.
The adjacent prep school has been sold and the main site is still being used for language classes, mainly for overseas students.
Crispin Harris of agents Jackson Stops and Staff said the firm would not only consider the amounts being offered for the site but also the intended uses.
"We want to look at all aspects of the offers being made before deciding," said Mr Harris.
He declined to elaborate on the uses being proposed, but said interested parties "have various different ideas in mind".
Interested parties have until 1 October to express an interest.