Flintshire parks protected as open spaces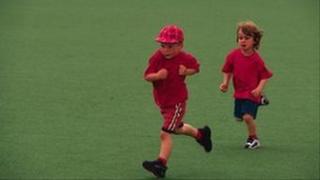 Fifteen parks in Flintshire have been protected as open spaces.
The areas have been given Queen Elizabeth II Field Status, which protects public open spaces as a legacy from the 2012 Olympics and the Queen's Diamond Jubilee .
Flintshire council said the move would ensure the parks were restricted to outdoor play, sport and recreation for "generations to come".
The council hopes to invite more nominations in years to come.
The recreation areas are protected in a deal between Flintshire council and the Fields in Trust charity.
Ivor Morgan, chairman of Fields in Trust Cymru, said: "Local authorities today may have the best will in the world about protecting public open spaces, but no-one can guarantee what their successors will be tempted to do in 20, 50 or 100 years.
"The council should therefore be proud of what they are doing for future generations."
Protected open spaces:
Argoed Sports Association, Mynydd Isa
Ffordd Dolgoed, Mold
Gronant Recreation Ground
King George Street, Shotton
Lixwm Play Area
Llys Ben Playing Field, Northop Hall
Maes Bodlonfa, Mold
Maes Pennant Playing Field, Mostyn
North Street Football Pitch, Saltney Ferry
Phoenix Park, Leeswood
Phoenix Street Recreation Ground, Sandycroft
Princess Park, Connah's Quay
Sealand Manor Recreation Ground
Victoria Road, Bagillt
Wepre Park, Connah's Quay
On Tuesday, conservation body the Open Spaces Society, said North Street football pitch in Saltney Ferry was much-needed as a recreational area.
Kate Ashbrook, its general secretary, said: "This is the only recreational area in Saltney Ferry, much loved by local people who badly need open spaces for fresh air and enjoyment."