Flood-damaged coastal path reopens in Flintshire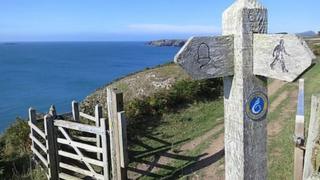 Flood-damaged stretches of the Wales Coastal Path in Flintshire are re-opening after eight months of work.
Flintshire council closed sections of the trail after flood defences were breached in the winter storms.
The final stretch at Panton Cop near Bagillt has now been repaired after the embankment was breached.
Environment spokesman Councillor Bernie Attridge said: "It's great to see the path finally ready for the public to enjoy over the holiday weekend".
The coastal path covers the whole of Wales over a distance of 870 miles and opened in May 2012.
The Welsh government split £545,000 between 17 councils to repair damage to the path.