Mold market crash: Norman Jones banned from driving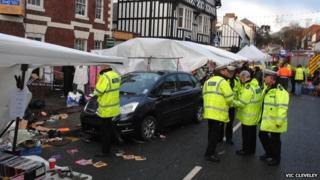 A pensioner who drove his car into a Flintshire street market injuring 10 people just before Christmas has been banned from driving.
Norman Jones, 81, of Pentre Halkyn, who has been diagnosed with memory loss and dementia, admitted careless driving in Mold town centre.
His lawyer Phillip Lloyd Jones said the pensioner would never try to get his licence back.
Flintshire magistrates fined him £100 and ordered him to pay £105 costs.
The incident happened shortly before 11:00 BST on 7 December, 2013.
The court previously heard how Jones's Citroen Picasso came down the high street, overtook two cars at traffic lights and careered into the pedestrian section of the high street, which was busy with Saturday market shoppers.
The vehicle hit market stalls and pedestrians, leaving 10 people injured.
One woman suffered serious leg injuries which needed seven pins inserted and may require a knee replacement; a second broke her leg and ankle while a third suffered broken ribs, an ankle injury and bruising.
Jones, who previously had a clean driving licence, wrote to the court to plead guilty saying he had been diagnosed with memory loss and dementia 18 months ago.
Memory loss
He said he was still at a loss to understand what happened and could only assume that it was associated with his medical condition.
Jones gave up his driving licence to police at the time of the accident.
"The incident made it clear to me that I am no longer fit to drive," he wrote.
Phillip Lloyd Jones, defending, said the pensioner had been cleared as being fit and well enough to drive at that stage.
"He lost control and sadly careered into stalls and people on the high street market on that particular day," he said.
The lawyer added that since the accident Jones's condition had deteriorated.
"I can assure you having met him and his family that there is no way he can ever drive again," he added.
Mr Lloyd Jones also urged Flintshire council to consider putting up a crash barrier to prevent any risk of a similar accident in future.
A spokesperson for the authority said market stalls had temporarily been relocated due to refurbishment of Daniel Owen Square, but added a risk assessment after the incident concluded "the position of the market should not change and the provision of a barrier would not be practical".