Hawarden airport launches safety radio zone plan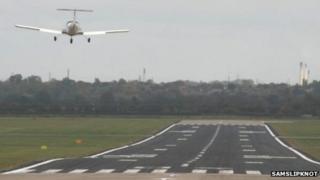 Hawarden airport in Flintshire is looking at proposals to introduce a compulsory radio communication zone for all types of aircraft in its airspace in a bid to improve safety.
The move would require all aircraft to make radio communication with Hawarden radar before entering a defined radio mandatory zone (RMZ).
The airport is used by a variety of aircraft including Airbus to fly wings out of its Broughton factory.
The plans are going to consultation.
A statement on the Hawarden Airport RMZ Consultation website said: "The reason we are considering the establishment of an RMZ is quite simply safety.
"Hawarden is routinely used by large and fast aircraft, whilst at the same time general aviation traffic has increased in volume and variety.
"We have witnessed an increasing number of unknown aircraft operating, totally legally, in the local area.
"Unfortunately, controllers aren't always able to find a safe way to route aircraft around the unknown traffic, quite simply because we don't know their intentions, they can turn, climb or descend at any point and we don't know when that will happen."
The zone would operate from early morning to night time most days, with reduced hours on Sundays and bank holidays.
The airport recently dropped plans to operate commercial flights to UK airports from Hawarden.