Commercial flights plan for Hawarden airport dropped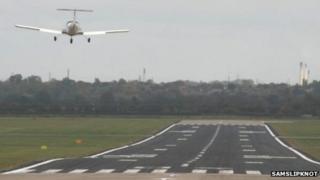 Plans to operate commercial flights to major UK cities from Hawarden airport in Flintshire have been dropped, the BBC understands.
The company had invested £1m in a new terminal building last year.
The airport shares a runway with the Airbus wing-making plant, which is working on a new taxiway.
North Wales AM Antoinette Sandbach said flights would have helped to boost the local economy as the airport is close to the Deeside Enterprise Zone.
Owner Aviation Park Group has been asked to comment.
The Conservative AM said: "I think it's a loss for the region. It had a lot of support from the local businesses around Hawarden particularly with the potential for the enterprise zone.
"It would have been a fantastic way of linking for example north Wales to Scotland and other areas, which would have hopefully encouraged tourism into north Wales, so I think it's a loss in terms of business potential and tourism potential.
"It's not as if we were talking about a massive planes that were coming in.
"These were going to be small city hopper type planes and I think it would have brought huge benefits in terms of employment to the area including staffing of the terminal and those possibilities have been lost now, it seems."