Wood-burning incinerator at Mostyn's Warwick Chemicals agreed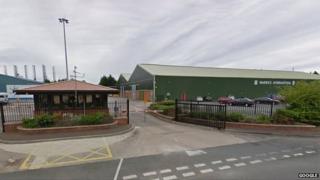 Plans to build a wood-burning incinerator close to the Dee Estuary have been approved, despite strong objections from some local people.
The combined heat and power biomass plant at the Warwick Chemicals site in Mostyn, Flintshire, would burn up to 11 lorry-loads of wood a day.
More than 400 people signed a petition objecting to the plans and some held a protest at the factory.
Objectors are concerned about project's scale and impact on the environment.
Members of Flintshire planning committee voted to give the go-ahead for the plant to replace the firm's existing gas-fired boilers.
It is expected to be fully-operational in 2016, creating up to 20 full-time jobs.
Warwick Chemicals say it will use pre-prepared waste wood which is untreated and uncontaminated.
In a statement on its website, the company said: "The wood will be chipped before being transported to the site under commercial contract. No wood pre-processing would take place on-site as part of the proposed development."
Steam produced from heat by the plant would be used by Warwick for production purposes and to generate electricity with any surplus distributed to the local network.
"The site currently uses natural gas to provide its heat for steam and uses electricity direct from the National Grid. Both of these are non-renewable resources," said the statement.