Flintshire council warning over replica BB gun prizes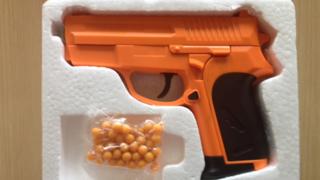 A council is warning parents against children being given mock BB guns as prizes at summer fetes and shows.
Flintshire council said 6mm plastic shot supplied with the devices could cause injury if used carelessly.
Trading standards officials urging parents not to allow children to play with them after a member of the public alerted the authority.
The council said although the guns are marked for people aged over 18 it found children could select them as prizes.
Council officers are also checking that amusement arcades know the concerns about giving out the guns and say supplying them may constitute offences under consumer protection and firearms legislation.
A BB gun is an air gun which fires metal shot. The name derives from the size of the original shot pellet.